Snell B7
Signature Tower System
Original List Price: 14000.00 PR


---
Grade: DEMO
DEMO: 4999.00 PR
New display model with full warranty
Comments:Cherry with box & manual.

---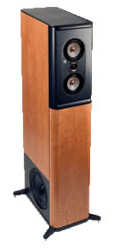 The goal, whether for music or film, is to transport the ingredients of realism, that is, texture, dimension and presence, to every seat in your living room. For 30 years Snell Acoustics has hand crafted speaker systems to envelop the listener with incredible bandwidth and precise imaging. The new full-range B7 tower extends this Snell tradition of musical realism. Designed by Joe D'Appolito Ph.D., Snell's chief Engineer, the B7 boasts dual 4.5-inch machined magnesium midrange drivers mounted over and under a 1-inch SEAS silk dome tweeter. This configuration, called a D'Appolito Array, is famous for providing a startling three-dimensional sound stage. The bass is anchored by two 8-inch aluminum, side-firing woofers, \"Force Balanced\" by their back-to-back placement. This arrangement filters unwanted cabinet resonance for more detail and authoritive bass. Designed for the real world of unpredictable room acoustics and placement considerations, the B7 is flexible to place and beautifully hand finished in natural cherry. The narrow profile real wood cabinets are veneer matched as pairs. The grilles and solid aluminum top plates are black. Like all Snell loudspeakers, each B7 is hand tuned for natural imaging and sonic depth. With an original list price of $14,000 a pair, Audio Classics has a limited quantity of these speakers, starting pre-owned at $6999 Pair... or NEW in Box at $7999 Pair.

Specifications:
Elegant industrial design compliments any decor
Acoustic design by Snell Chief Engineer Joe D'Appolito
Dual 8-inch aluminum woofers, one mounted on each side in a "Force-Balanced" configuration
4-inch D'Appolito Array - dual machined magnesium midrange drivers mounted over and under a low resonance 1-inch silk dome tweeter
Discrete crossover boards for bass, midrange and treble for lower distortion and allow for triamp (triwire), biamp (biwire) and single amp connectivity
Rear-firing tweeter for even power response (defeatable)
Treble level switching
Boundary switching
111 dB output in large listening rooms
Bass to 32Hz
Available in black painted walnut and natural cherry
Shipping weight: 200 lbs.

Related Categories: Speaker Cable Speaker Stands


Convenient payment plans: Audio Classics, Ltd. accepts Mastercard, VISA, Discover and American Express. For Your protection, we thoroughly investigate the validity of all credit card charges. To avoid delays, we prefer to send credit card orders to Your billing address only. You can pay by personal check, postal money order, certified check or bank cashier's check. Personal checks are subject to credit verification and can delay orders up to two weeks. COD orders must be paid by cash, bank check or money order and require a 10% deposit. The deposit can be paid by check or credit card.
Expert Packing: Your purchase is packed in the original shipping container whenever possible. Double boxing is used for extra protection on most items and Your shipment is insured. Large or heavy items can be crated at an additional charge. Audio Classics, Ltd. ships by your choice of UPS, FEDEX, US Mail, BAX, Roadway or Consolidated and you pay the shipping and handling charges.
Copyright © 2013 Audio Classics, Ltd. Website by Rob Monkovich
Vestal, NY Showroom Hours: Monday-Friday 8am-5:30pm, Saturday 11am-4pm EDT
3501 Vestal Rd. Vestal, NY 13850 Phone 800-321-2834 or 607-766-3501

Syracuse, NY Audio and Steinway Piano Gallery Hours: Tuesday, Thursday, Friday 11am-6pm, Wednesday 11am-8pm, Saturday 10am-5pm EDT
3065 Erie Blvd. East, Syracuse, NY 13224 Phone 315-445-3065