Snell K7
Bookshelf Compact Monitor
Original List Price: 1500.00 PR


---
Grade: DEMO
DEMO: 899.00 PR
New display model with full warranty
Comments:Black with box & manual.

---

Grade: B1
B1: 749.00 PR
Physical: Some light scratches - Excellent Condition
Electrical: Meets or exceeds original specs, all functions operate
Comments:Black with box & manual.

---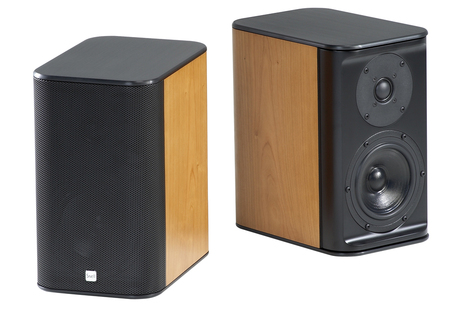 Is Bigger Always Better?...Can Speakers Be Beautiful?
Snell Series 7 loudspeakers reveal the depth, impact and nuance in every music and movie soundtrack without the obtrusive look and placement conflicts of typical speakers. Handcrafted in Massachusetts from real wood and solid aluminum, the elegant Series 7 with its soft lines and superb finish plays perfect host to the technology inside. K7 Style and room architecture play a bigger role in home entertainment decisions than ever before. The smallest of the Series 7, the K7, is designed to perform as a full range monitor and integrate with most decors. Based on high performance drivers from SEAS, and quite a bit of magic from Snell's chief engineer, Joe D'Appolito Ph.D., the K7 betters its award winning predecessor, the K.5mk2, in half the physical size. Fine-tuned with an individually calibrated crossover, the shoebox sized K7 plays music and movies at concert hall levels, with startling dimension and clarity. With an original list price of $3,000 a pair, Audio Classics has a limited quantity of these speakers, NEW in Box at $1499 Pair.

Specifications:
Elegant industrial design compliments any decor
Acoustic design by Snell Chief Engineer Joe D'Appolito
5.25-inch long-throw woofer
Low resonance 1-inch silk dome tweeter for better imaging
Discrete crossover boards for bass and treble for lower distortion and allow for biamp (biwire) and single amp connectivity
May be placed vertically or horizontally
Boundary switching
105 dB output in typical living room
Bass to 55Hz
Available in back or natural cherry finish
Shipping weight: 40 lbs.

Related Categories: Speaker Cable Speaker Stands


Feedback: Dude these Snells are amazing!!! Thank you so much. Wow what an amazing speaker. They can stand toe to toe with my Wharfedale Evo2's that are full size. My kitchen will never be the same. E.S., UT
Well it has been almost 1 year since I started doing business with Mike at Audio Classics. I have bought the Snell IC-K7, J7, K7, CR 7, SR30 surround speakers and a Revel B120 subwoofer and have been absolutely blown away by their performance. With other High end Snell speakers I already had, I now have 3 full home theaters with the most understanding wife. ... If you haven't heard the Snell Acoustics speakers, you should! Unbelievably values are just sitting in Audio Classics Snell inventories. I just wish I had more rooms to fill. THANKS MIKE... B.L in TN.
I just received my 1st order this weekend, Snell IC-K7 speakers, and could not be happier!!! The packing and condition of the speakers were beyond my expectations. For someone who is mostly home-bound due to health, every pleasant experience is treasured. From my 1st phone call with Mike to ordering with him and then to hearing the incredible music my speakers produce, staying at home now is no longer such an unpleasant situation. I can not wait until my next order arrives this week, Snell J7s. Audio Classics should be proud of the service, professionalism and that WOW feeling we get! It must be fun to work there!!! Thank you again and I look forward to a hopefully long and treasured relationship. B.L., TN.
Convenient payment plans: Audio Classics, Ltd. accepts Mastercard, VISA, Discover and American Express. For Your protection, we thoroughly investigate the validity of all credit card charges. To avoid delays, we prefer to send credit card orders to Your billing address only. You can pay by personal check, postal money order, certified check or bank cashier's check. Personal checks are subject to credit verification and can delay orders up to two weeks. COD orders must be paid by cash, bank check or money order and require a 10% deposit. The deposit can be paid by check or credit card.
Expert Packing: Your purchase is packed in the original shipping container whenever possible. Double boxing is used for extra protection on most items and Your shipment is insured. Large or heavy items can be crated at an additional charge. Audio Classics, Ltd. ships by your choice of UPS, FEDEX, US Mail, BAX, Roadway or Consolidated and you pay the shipping and handling charges.
Copyright © 2013 Audio Classics, Ltd. Website by Rob Monkovich
Vestal, NY Showroom Hours: Monday-Friday 8am-5:30pm, Saturday 11am-4pm EDT
3501 Vestal Rd. Vestal, NY 13850 Phone 800-321-2834 or 607-766-3501

Syracuse, NY Audio and Steinway Piano Gallery Hours: Tuesday, Thursday, Friday 11am-6pm, Wednesday 11am-8pm, Saturday 10am-5pm EDT
3065 Erie Blvd. East, Syracuse, NY 13224 Phone 315-445-3065